AI-Assisted Learning: Revolutionizing ML/AI Education with ChatGPT trained on learning materials
How does AI work in a university setup? Our use case of empowering one of the top US universities with online course support provides an excellent example of AI integration into the educational sector.
Introduction
The Professional Certificate in Machine Learning and Artificial Intelligence program, offered by one of the top rated universities in the USA (not allowed to provide the name due to the NDA) is a comprehensive online program designed to equip learners with the essential knowledge and practical applications of ML/AI tools and frameworks, paving the way for a thrilling and high-demand career in this field. This program caters to individuals with a background in technology or mathematics.
The program is aimed to provide students from around the World with the opportunity to acquire cutting-edge skills from the world's leading experts in ML/AI. The multi-module curriculum covers key ML/AI skills that organizations desire and includes recorded faculty videos and demonstrations, hands-on coding activities, discussions, quizzes, and a capstone project.
Challenge
The Professional Certificate in Machine Learning and Artificial Intelligence offers the flexibility to learn at your own pace, anytime and anywhere. However, providing consistent support to students from different time zones, varying schedules, and diverse learning styles posed significant challenges to the learning facilitators.
The program is delivered through online platform of one of the world's leading providers for distance learning, aimed to enhance the program by offering continuous student support across different time zones. At times, students might not receive prompt responses to their inquiries or have access to live support, leading to frustration and negatively impacting their learning experience.
The Solution
To address this challenge, the e-learning service provider implemented an AI tool - virtual assistant chatbot built with IngestAI. The ChatGPT model was trained on the program's learning materials, such as vocabulary, video transcripts, and reference guides. The chatbot was then integrated into the program group's Slack workspace, within a separate channel dedicated to private, one-on-one conversations between the chatbot and individual students. This innovative solution ensures that each participant receives personalized, timely assistance, enhancing their overall learning experience.
Results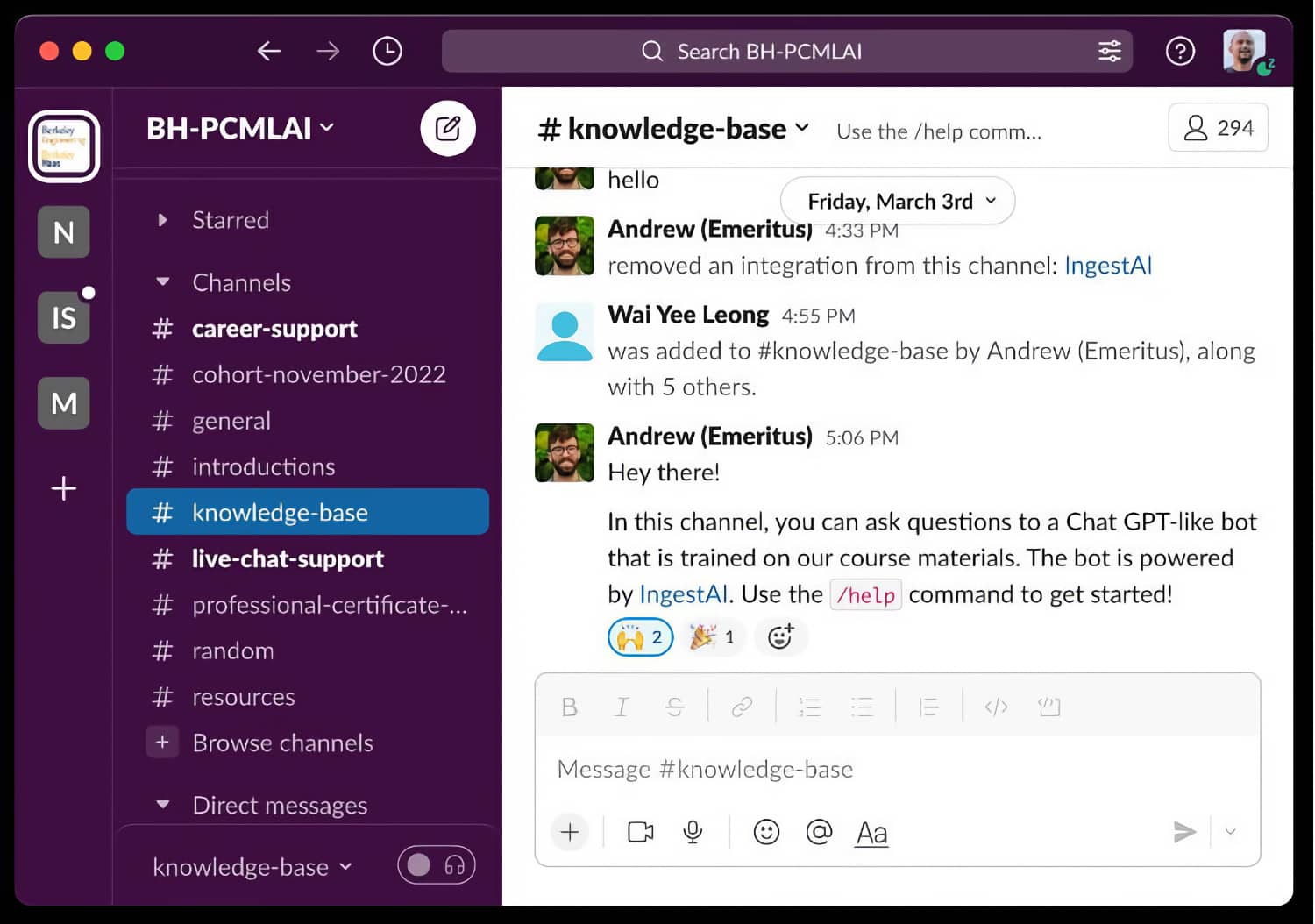 After implementing the AI-powered chatbot built with IngestAI, the distance learning platform provider experienced significant improvements in student support and overall satisfaction of learners enrolled into the program. The AI assistant was able to provide:
24/7 instant support: Students from different time zones were able to access immediate knowledge base and literally chat with their learning materials, without having to wait for responses from facilitators, significantly enhancing their learning experience.

Personalized assistance: Thanks to the AI tool assembled and trained on program-specific materials using IngestAI, the chatbot was able to deliver accurate and relevant responses to students' inquiries. This tailored support helped students overcome learning obstacles more efficiently.

Increased engagement: With the chatbot readily available on Slack, students were more engaged in the learning process. Knowing they could get instant help on-demand.

Reduced workload for facilitators: The AI chatbot took over a big part of the routine inquiries, allowing facilitators to focus on more complex student needs, improving overall learning quality.
In conclusion, the implementation of IngestAI's AI assistant chatbot significantly improved students' learning experience at the Professional Certificate in Machine Learning and Artificial Intelligence program. The chatbot's round-the-clock support, personalized assistance, and seamless integration into the existing learning platform enabled Emeritus to overcome time zone challenges while boosting student engagement, satisfaction, and program outcomes.